Vintage Glam Elopement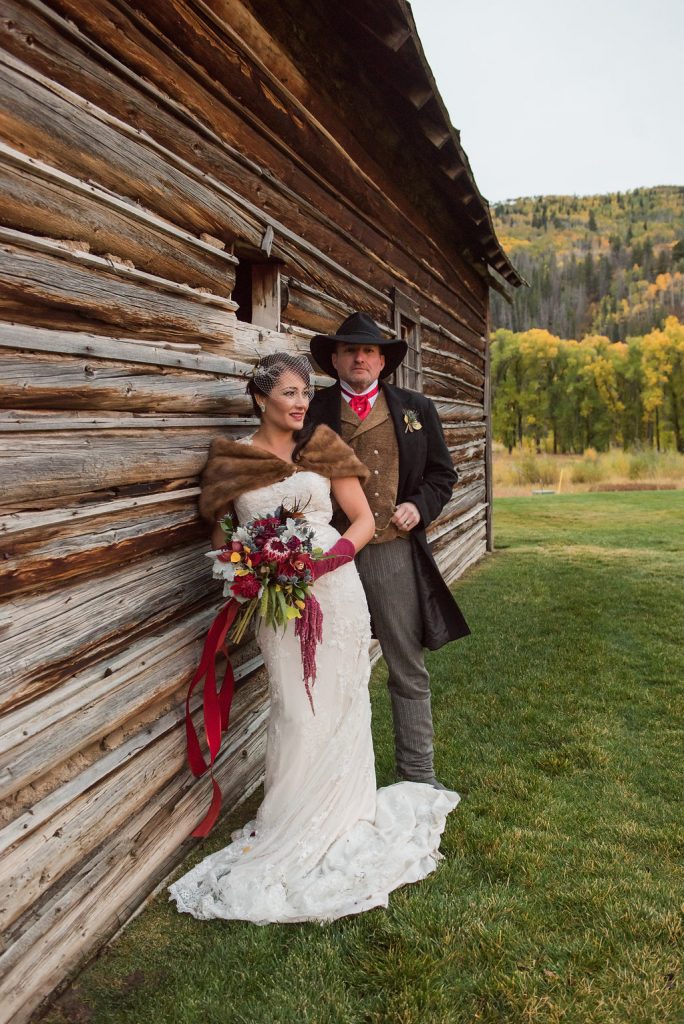 Trina and Alan were my last wedding of the fall season this year, and what a way to end the season!  The fall colors miraculously lasted for an unprecedented three weeks here in northwestern Colorado!  Their magical elopement was one of the most intimate and special weddings I have had the pleasure of coordinating!  The two wanted to get married among changing aspen leaves.  It was a lot of fun hunting for the perfect spot with them on their visit to Steamboat earlier in the summer and when I led them to one of my favorite "secret" groves not far from the Wyoming boarder and they were sold!
The cool fall day was nothing short of magical; we had rain, snow, mist and fog but in the grove we were well protected.  We turned the grove into natures church by hanging a cross on one of the aspen trees.  Trina and Alan had both selected amazing vintage attire and the couple looked like they stepped right out of the late 1800's.  Trina was spectacular in her lace dress, embroidered cowboy boots and a facinator with floral embellishments she made by hand.  Alan procured his outfit by shopping at vintage shops and he looked incredibly handsome and  authentic in his grey flannel pinstripe pants, vest, and coat.   Since it was an elopement, it meant a lot to incorporate Alan's parents a locked that was secured to his boutonniere.
The live acoustic guitar by Sean David Allen added to the ambiance of the ceremony and we used antlers, oversized pine cones, candles, and a vintage rug, to decorate the ceremony area.  Off to the side we set up a vingnette with an antique carved wood and leather chair and a table for taking some post-ceremony photos.
After the ceremony Alan and Trina headed back to 3 Forks Ranch for more photos with amazing photographer Cali Frankovic. They had an intimate dinner in the beautiful dining room and then honeymooned at the ranch.
We were so blessed to be able to be a part of this incredible wedding!