SIPS – The Aurum Manhattan
Vernon Duke's heartfelt and melancholy song  "Autumn in New York" is the perfect listen for homesick New Yorkers this time of year. The song was originally written for the Broadway musical Thumbs Up!  My favorite version was recorded by Louis Armstrong and Ella Fitzgerald. Listen.
Short of being in the Big Apple this Fall, I am going to play this song and mix up a local version of a Manhattan.  This cocktail is a signature at one of the newer restaurants in Steamboat Springs, Colorado – Aurum, which opened last year.  The restaurant, located along the Yampa River downtown, offers views of the legendary Howelsen Hill, food that is inventive and delicious (try the curried cauliflower or a crabcake), and a hip, contemporary atmosphere is refreshing for a traditional mountain town.
Thanks to Aurum for giving me a taste of home, right here in Colorado!
The Aurum Manhattan
2 oz Colorado Gold Bourbon
1/2 oz Luxardo Cherry Liquor
1/2 oz Green Chartreuse Liquor
Sweet Vermouth – dash or to your taste
3 herries soaked in Bourbon
1 Orange Peel cut in 3 inch by 1/2 ribbon
Combine Bourbon, Luxardo and Chartreuse Liquor and stir.  Add Vermout to taste. Spear one end of the orange peel with a long toothpick, thread on a cherry.  Repeat with peel and remaining cherries.
Serve "on the rock" (on a giant ice cube or ice cubes) garnished with the soaked cherries and orange peel.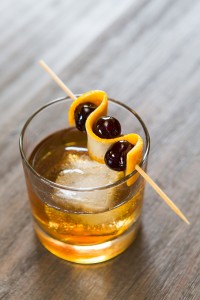 Cheers!
Jill
What is Green Chartreuse Liquor? Find out the history here!