Chocolate Cups
A big thank you to Liz Green of Bar Candy for sharing with us her unique, elegant and yummy product!  These edible chocolate "cups"  make for a beautiful and interesting cocktail or dessert display at your next wedding or event!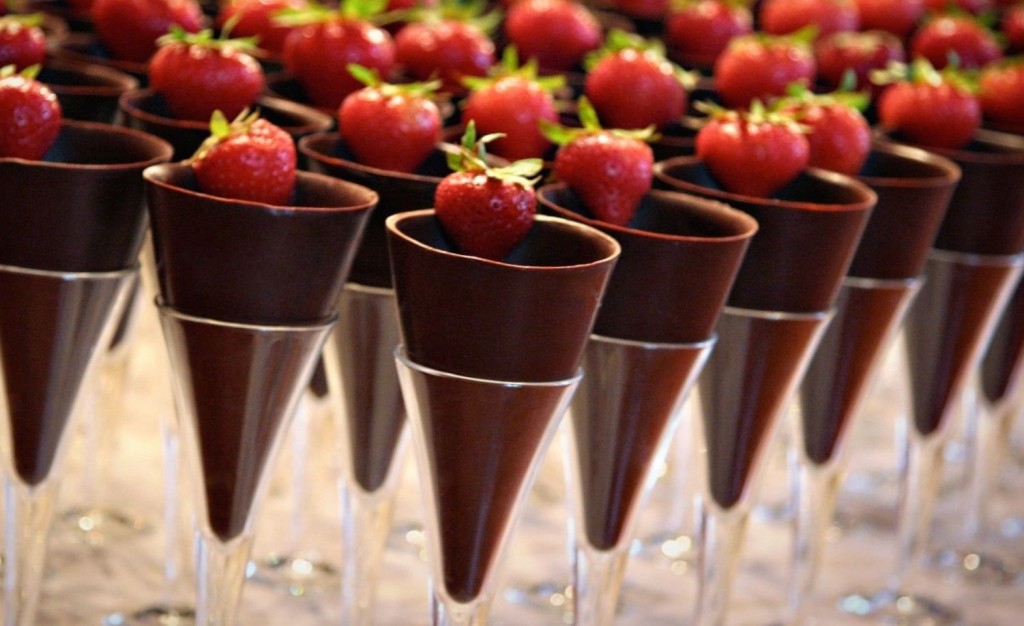 I am so excited to contribute to The Main Event's blog (I am a huge fan!) and thrilled to let everyone know about  my company Bar Candy. Bar Candy is a unique chocolate dessert item that can be incorporated into any event to make both cocktails and desserts a delicious decorative design element at Weddings, Mitzvahs, or any party! Following are a couple of examples of  how clients and brides have creatively used Bar Candy's edible chocolate champagne/cocktail glasses.
Let me first explain how I came to inventing these chocolate champagne/cocktail glasses.  I come from a mixology background, and I really wanted to create a unique drinking experience. I always thought that a mess-free chocolate glass would really enhance my dessert cocktails, and about a year later, Bar Candy was born.
Just after I launched, a wedding planner said he thought Bar Candy would be a surprise hit on a wedding reality show he was asked to plan. He wanted the dessert room filled with 400 white and dark chocolate glasses in rows. He wanted them garnished with strawberries, and wanted to use a very fine champagne. The whole thing looked gorgeous.  Suddenly I was speaking with many "brides to be" from all over the country about their upcoming weddings.
I've noticed that many brides like to rim the glasses in different color glitter and use creative garnishes to match their color scheme.  One bride I was working with, matched her floral colors with edible flowers to garnish the glasses. Her wedding colors were purple and white, and she ordered white chocolate glasses, rimmed the glasses with purple edible glitter, and garnished each with purple and white edible flowers.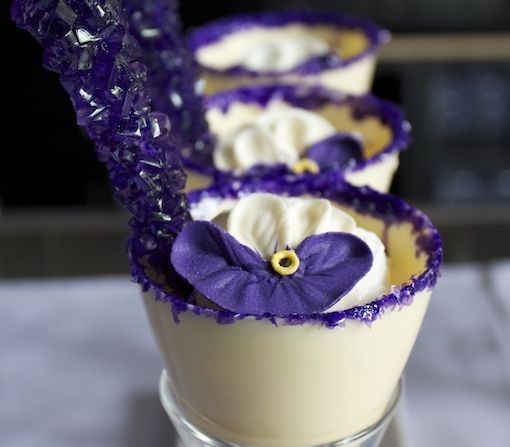 Another bride wanted to do a chocolate champagne fountain, and have the guests fill their glasses over and over again using the champagne fountain. The glasses are made from the highest quality Belgian chocolate, and are very durable. They last for at least 12 hours at room temperature, and month refrigerated.
One woman asked how she could incorporate her gold and white color scheme. I suggested she use an edible gold dust to rim the glasses. She rimmed the white chocolate marbled glasses with 10K gold edible glitter, and filled them with a salted caramel cocktail, and dusted some gold flakes on top. She later told me it looked stunning.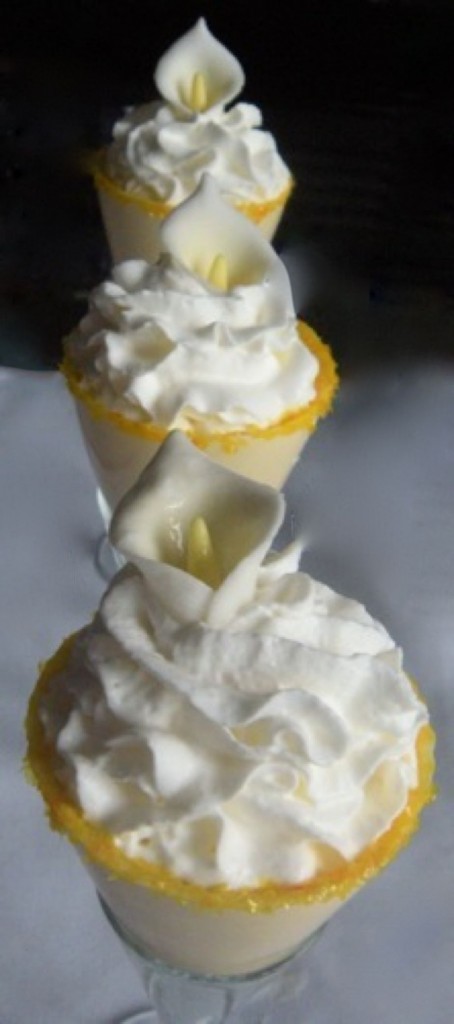 I really enjoy tossing ideas back and forth about how brides can use Bar Candy to add a unique touch to their weddings. I've been blown away by some of the creativity that many of these brides have regarding cocktails, color combinations, and ingredients.
Now that minis are so popular for dessert and candy buffets, we have come up with a mini version of Bar Candy, which has become quite popular.  Brides have filled the minis with anything from jelly beans and mini desserts to alcoholic fun shots.   Others have used Bar Candy for berries, mousses, non alcoholic drinks, and other innovative desserts.
I want to make sure that all my clients have access to my original recipes, and I also know that it is important for these cocktails to be easy to make. After all, to hire a mixologist is very pricy and not necessary anymore, in my opinion.  My website offers a contact page where you can email me for free recipes to compliment your event and your Bar Candy!
Bar Candy offers several combinations and purchase options.  Some brides order as few as one case (50 count), and use the disposable holder option (as opposed to the glass holders), with sparkling wine, and it ends up being pretty budget friendly.
I think one of the reasons that Bar Candy has been successful for weddings, is that brides can really use their imagination. I really enjoy listening to the passion and creativity that these woman have about one the most important days of their lives!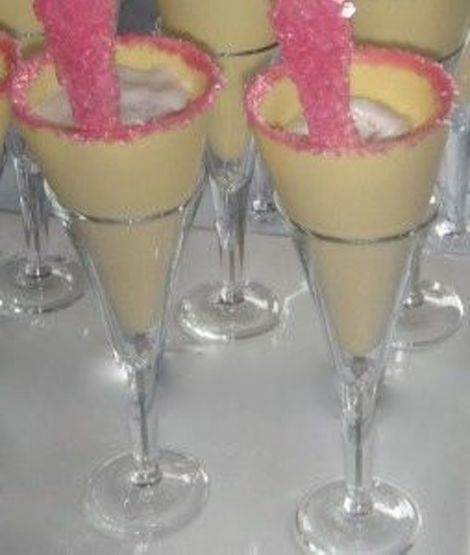 Liz Green is the owner of Bar Candy, and is based in New York City.  If you'd like to order Bar Candy for your next event contact Liz at sales@bar-candy.com or call 917.603.0149.