Behind The Lens: Cali Frankovic
Welcome back (Or, welcome, if you missed the first post for this series last month), to our new series of blog posts, BEHIND THE LENS, featuring Colorado Wedding Photographers.   The concept behind BEHIND THE LENS is to invite some of the top wedding photographers I have worked with over these many years to share their point of view.  These photographers have "seen it all" from a perspective unique from the hosts, guests and other vendors at a wedding. 
I know you will appreciate and learn from this month's Behind the Lens post by Cali Frankovic.  She addresses a very serious matter that can ruin your wedding memories, but does so with a bit of mirth.  Take a look at the photo "bloopers" below and consider Cali's great advice on how to avoid one of weddings biggest mishaps that no one will notice until it is too late!  Read on and remember, photos tell a story.  Be sure your guests are part of the story you want to tell on your wedding day. This post is well worth re-posting on your wedding website to advise your guests on wedding photography etiquette!
A final tip from me, Steamboat wedding planner, Jill Waldman: whether you are a guest or the wedding couple, watch the wedding day unfold with your own eyes, not through a digital device. The memories will be far better embedded and the meaning of the each moment much more poignant.

For more of Cali's beautiful work see Katie & Nate's wedding which she recently shot for The Main Event.
Weddings – Unplugged
By Cali Frankovic
You want your wedding day to be perfect. You spend countless hours, dollars, and sleepless nights planning every last detail. You hire an amazingly talented photographer to capture this perfect day to preserve those details, memories, and moments forever. So what happens when all your guests become paparazzi, or "Uncle Bob" who is a self proclaimed "photographer" wants their own photos of you? Well this usually leads to ruined photos, and your guests spending your entire wedding with their phone, or camera, in front of their face instead of enjoying your big day. This is why I want to introduce you to the "Unplugged Wedding".
Can you imagine a day where people actually "unplug" and put down their phone to be present in the moment. GASP! I know right? Well that day has come, and it's something you should definitely consider for your wedding day. I know you are probably asking what exactly is an "Unplugged Wedding?"  This is when you ask your family, friends, and guests to turn off their cameras, phones, iPads, and any other distracting digital devices during the ceremony and/or reception. This way they actually get to enjoy the moment and be present (and aren't constantly photo-bombing your professional photos).
There are a couple of ways to go about preparing your guests for this. One way is to remind them multiple times. You can put a little note in the invite, post a sign at the ceremony before they are seated, write a little something on the program, and have the Officiant make an announcement. You can also set up a photo booth and remind guests that they will be able to use that as much as they'd like. Another approach that I use as a photographer, is passing around an email book that guests can put their email in if they are interested, and then I send them a link to view all the wedding photos from the day. People love this, and it helps them relax and know that I am taking care of capturing the day. I'm not saying you cannot take pictures at all, but just be wise and considerate about when and where you are taking them.
As a photographer, I've seen the cell phone-iPad-family-member-photographer epidemic explode in the wedding scene, and it is probably one of my biggest pet peeves. The bride and groom have spent a small fortune to hire a professional photographer to be there to capture their wedding day. When you have 100 guests, who are also trying to capture every moment, it makes the professional's job nearly impossible. For example, the hired photographer prepares to capture the big kiss, and a guest steps out to the middle of the aisle with a giant red iPad blocking the bride and groom=perfect moment ruined. (see photo below!) I could go on and on with examples, but the bottom line is this…if you are a family member, friend, or guest at a wedding, please put your devices down, enjoy the moment, and be present. That is probably one of the best gifts you can give to the happy couple.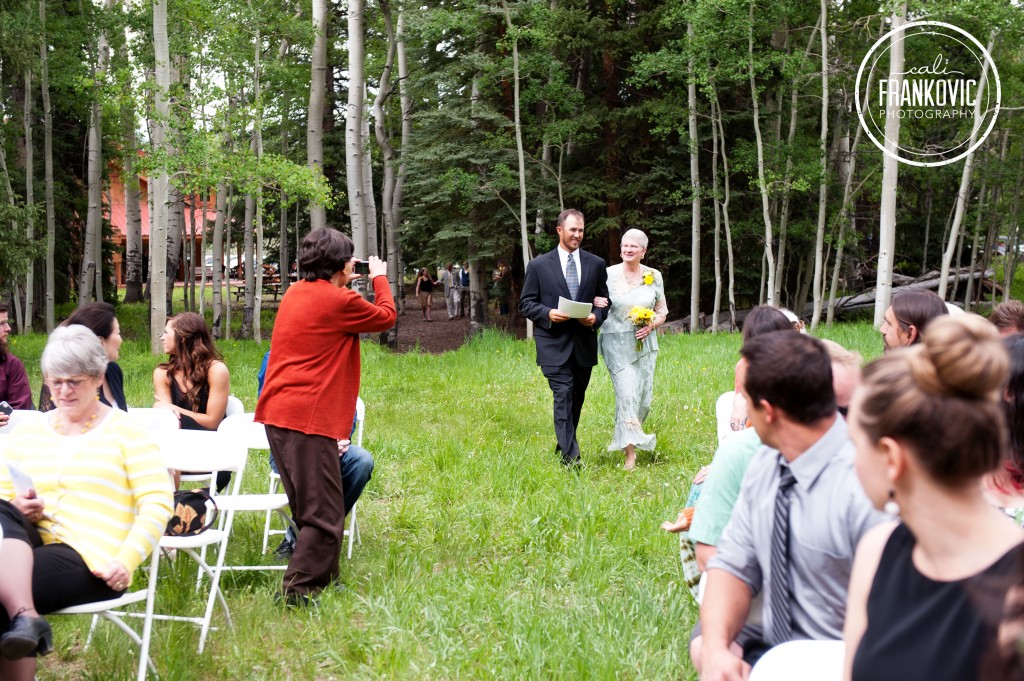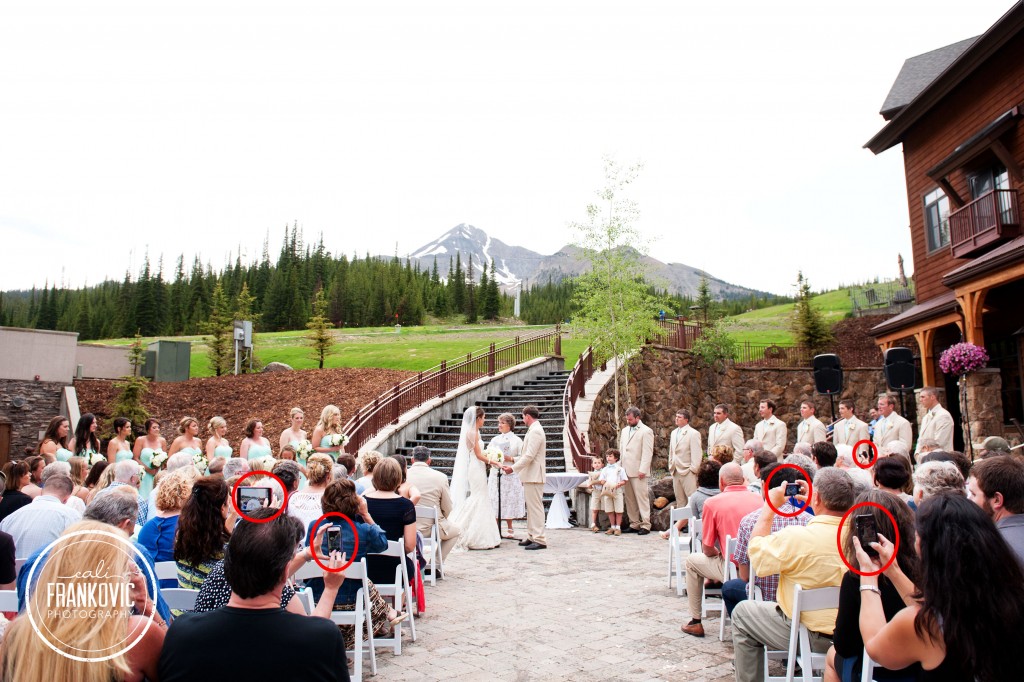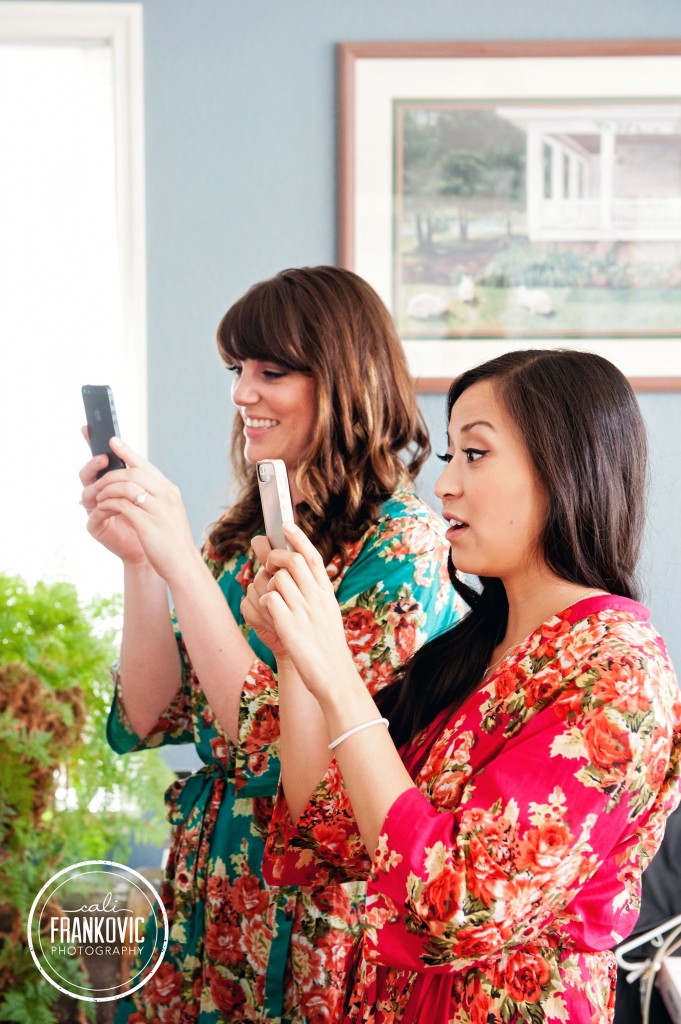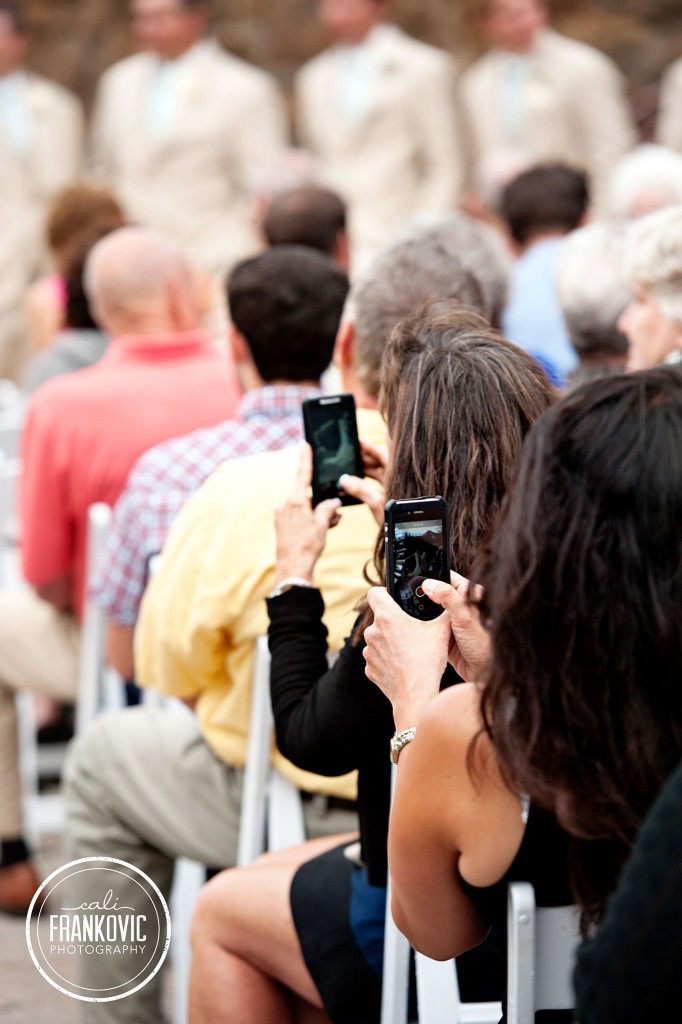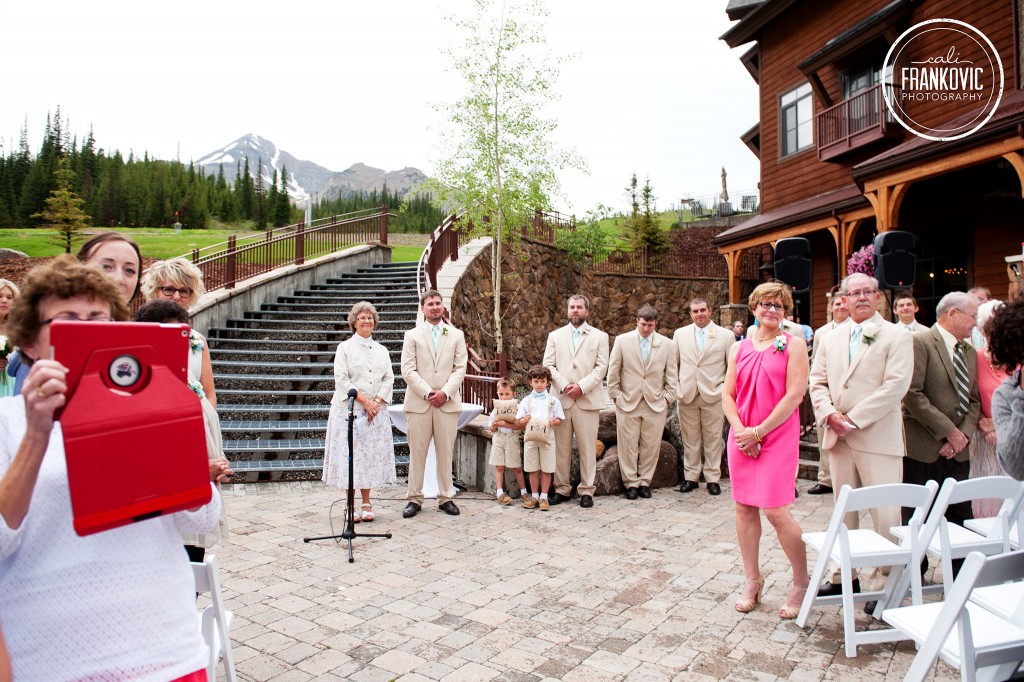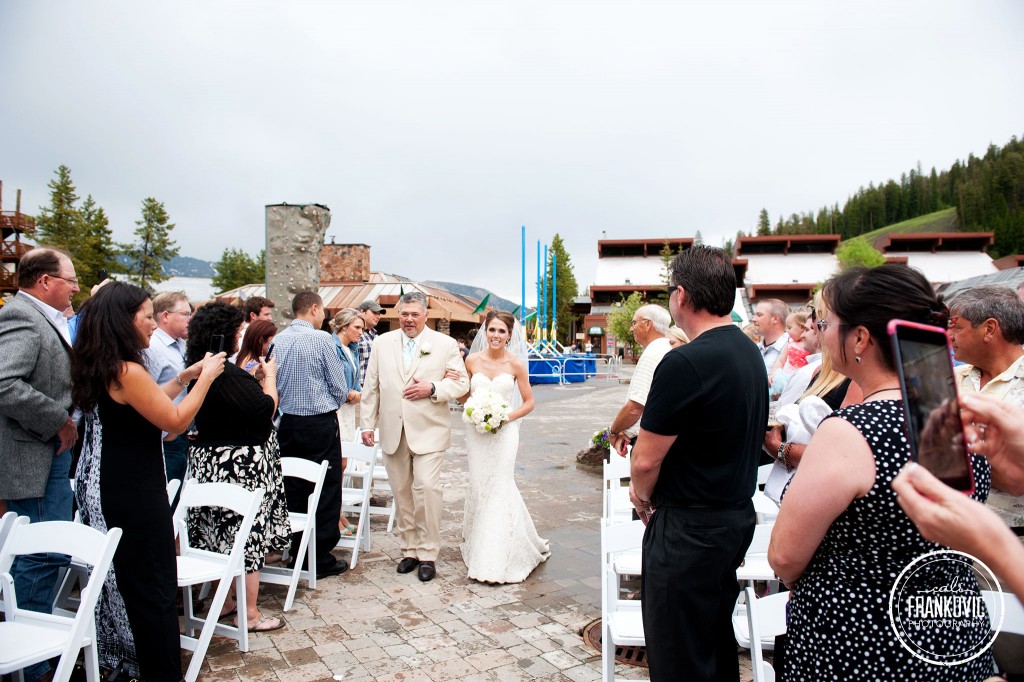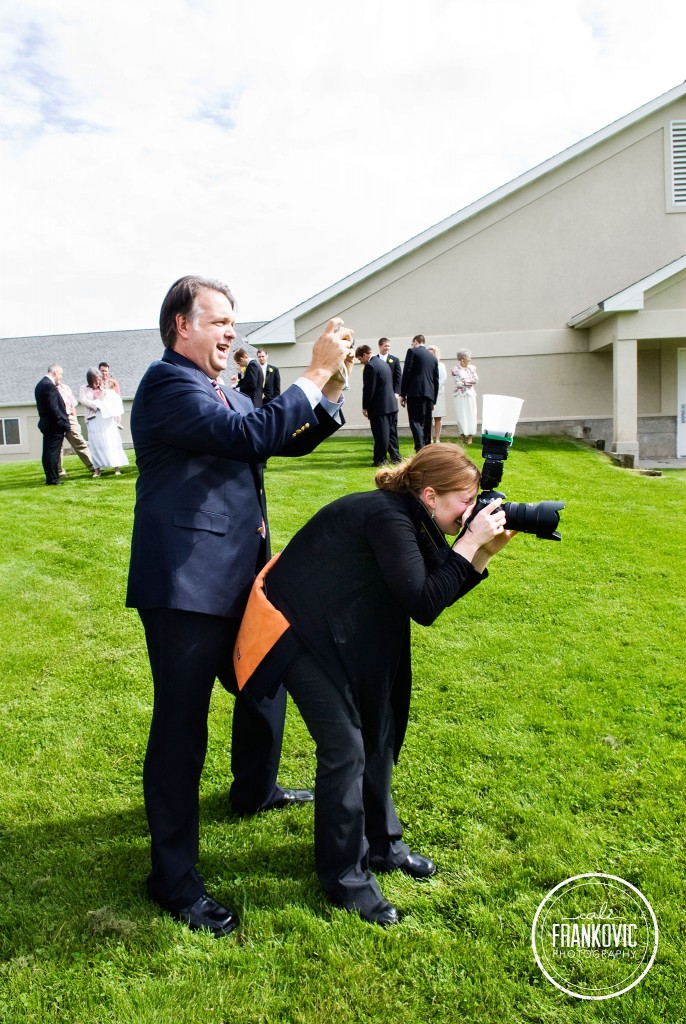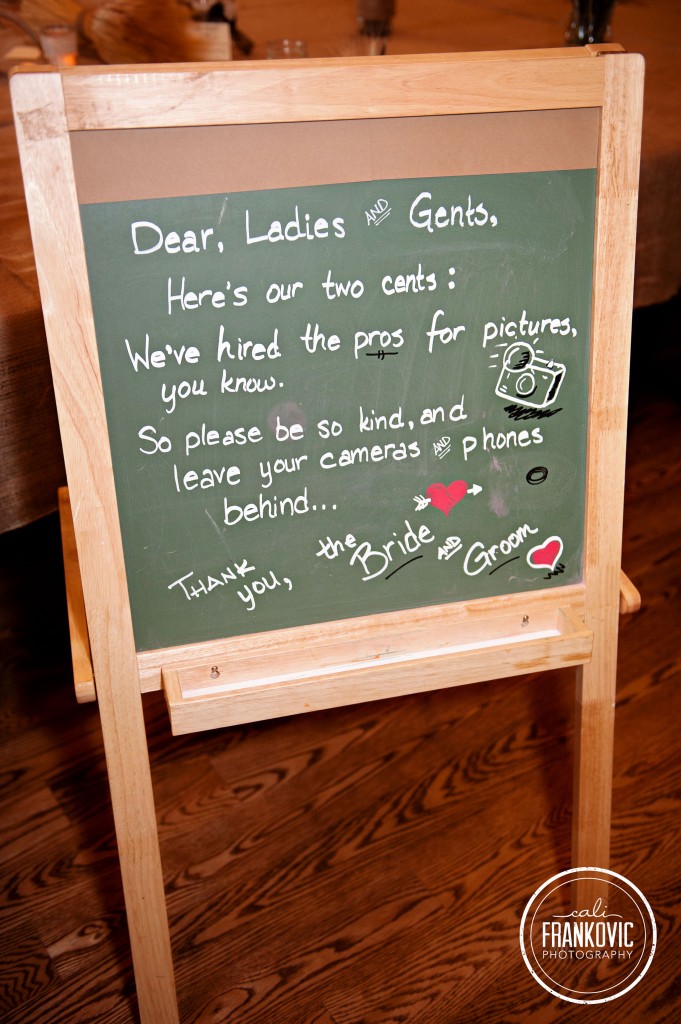 Please let us know your favorite blooper photo by commenting below!
Other posts in this series: